Rating all the other dinosaur games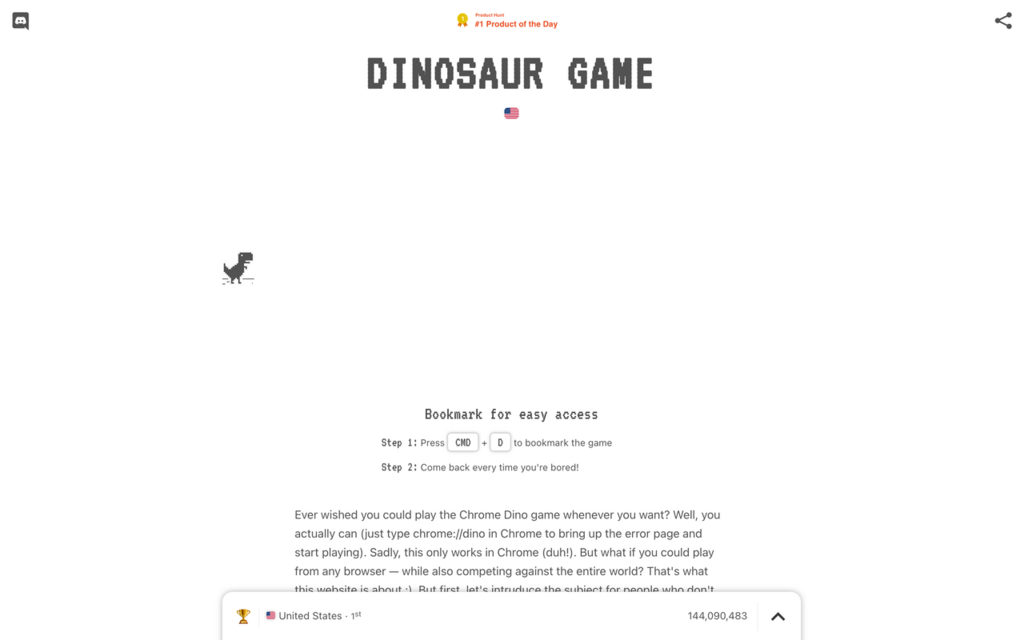 Andrew:
11/10, would play every day. Seriously though, we put a lot of effort into this, probably more than all of the other websites in this list combined. And some of them have more traffic than us… for now.
Eugene:
Seems familiar, I might have played it before :) . I'll give it a 9/10 because there's always room for improvement.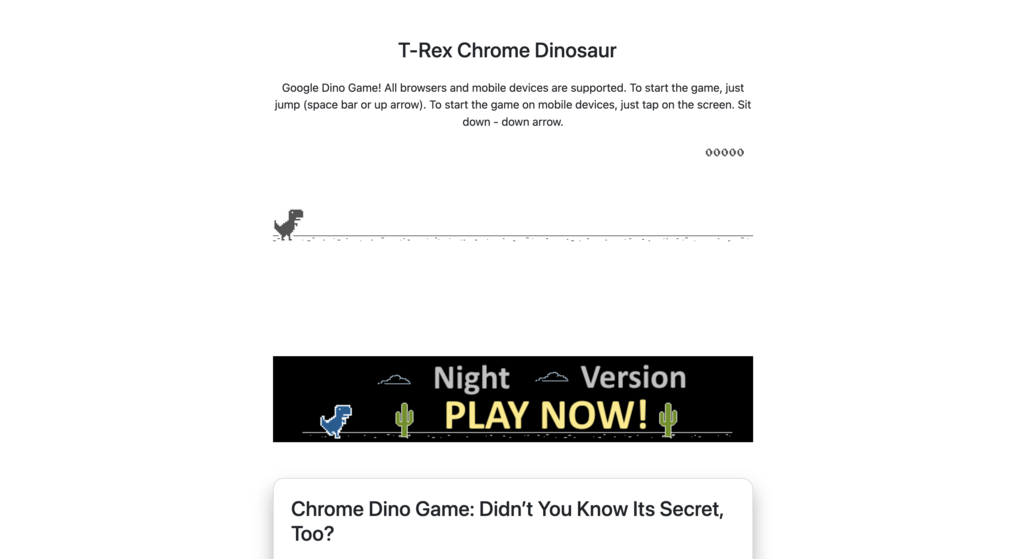 Andrew:
Simple, fonts too large, looks slightly spammy, I'll give it a 5/10.
Eugene:
I don't like the (lack of) design and overall there's nothing special, doesn't bring anything to the table, I'll give it a 4/10.
https://poki.com/en/g/dinosaur-game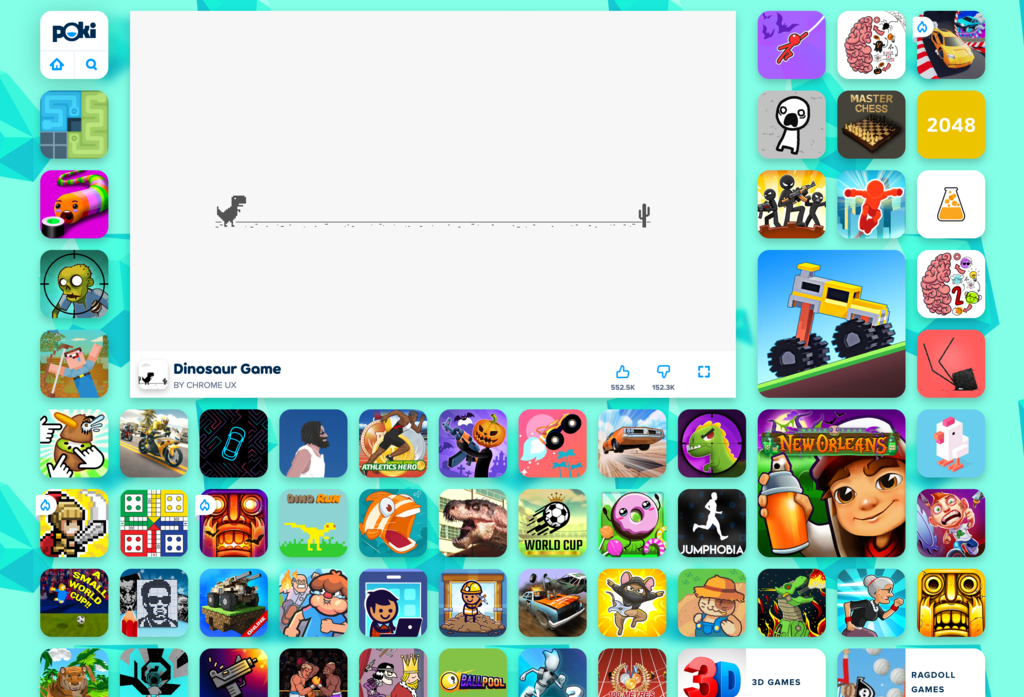 Andrew:
Poki is a cool site, not gonna lie. I also like their fullscreen mode, might want to look into implementing something like that as well. They do have a bug however where after I enter fullscreen mode, if I press the space bar to jump, instead of starting the game it exits fullscreen mode. 8/10 for me.
Eugene:
A bit too colorful for me, but I get the reason. They're not just focused on the dino game and they want to showcase all their games. Overall I would give it a 7/10.
https://offline-dino-game.firebaseapp.com/ Andrew:
The most basic version of the game you can imagine. Someone just copy pasted the game code on an html page, put it up on Firebase and called it a day. Didn't even bother to make it full-width. And yet it gets traffic, so who am I to judge? Still, I give it a 2/10 for the total lack of effort.
Eugene:
There is nothing to review here. I'll give it a 1/10 because technically the game works.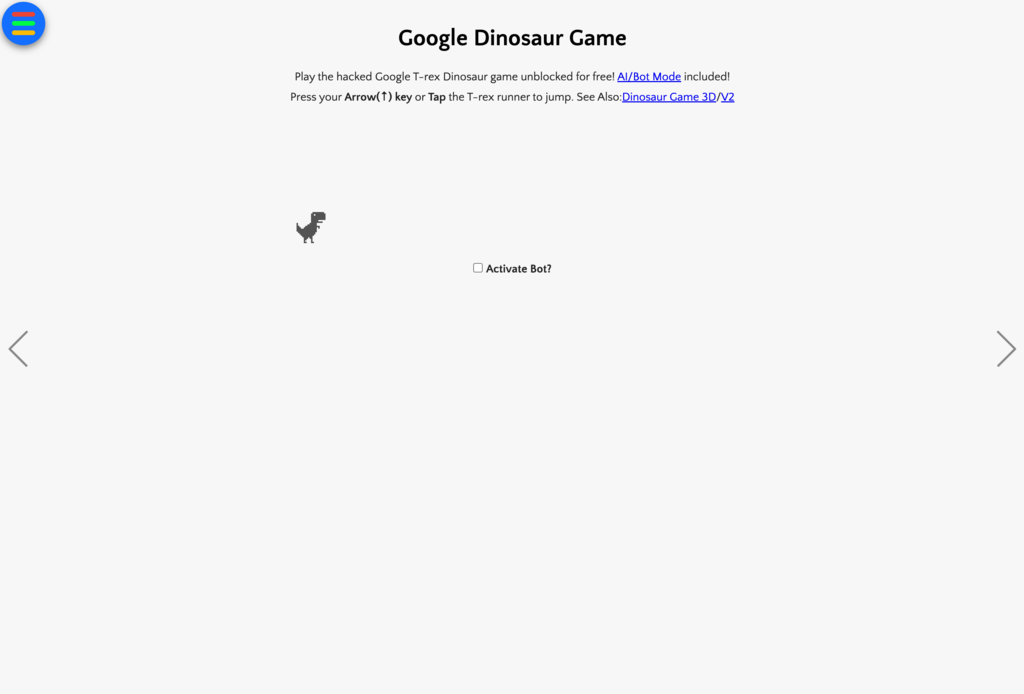 Andrew:
Another multi-game site similar to Poki, though less cool. I like the fact that they put arrows on the sides to allow quick navigation to the next game. They also have this "Bot" feature to make the dino jump by itself. I like the idea, so I'll give this a 7/10.
Eugene:
I like their navigation menu, it's dynamic and colorful. I don't see the point of the "Bot" option - I thought playing the game was the whole point. But maybe I'm missing something. Anyway, 6/10.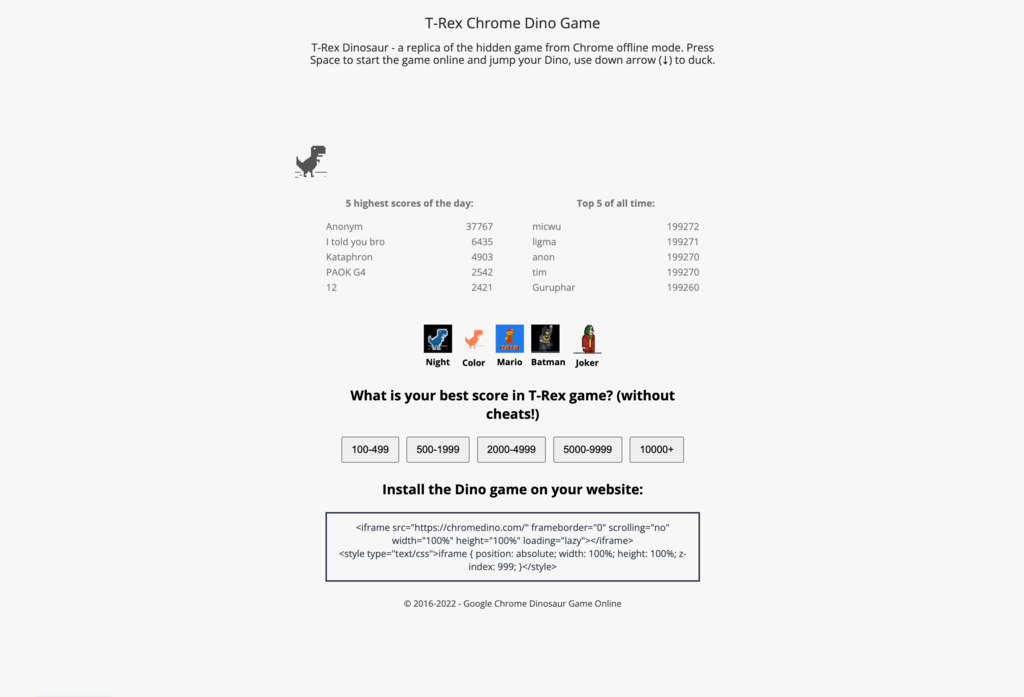 Andrew:
This is actually the first dinosaur game-related website I've ever come across. I like it because it's simple and it's not trying too hard. I also like the daily scores (fun fact: I actually coded daily scores from the start but ended up not displaying them on the site. Maybe I'll bring them back. 8/10.
Eugene:
I see what you mean regarding the simplicity/intuitiveness of this implementation. This is my favorite one so far (excluding ours of course), so I'll give it an 8/10.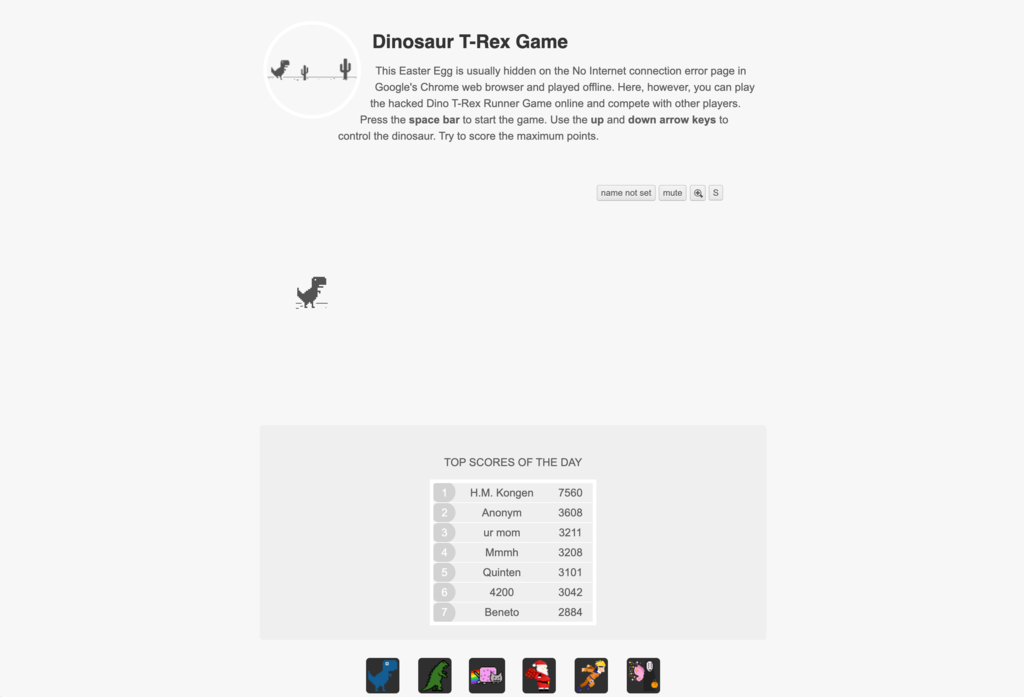 Andrew:
I like the zoom function (though there's a small unintended bug there, you have to click outside the button to unfocus, otherwise when jumping you will cycle through the zoom modes). The screenshot option is also pretty interesting. 8/10 for me.
Eugene:
Agree on 8/10. Nothing mind-blowing but it's pretty much what you would expect.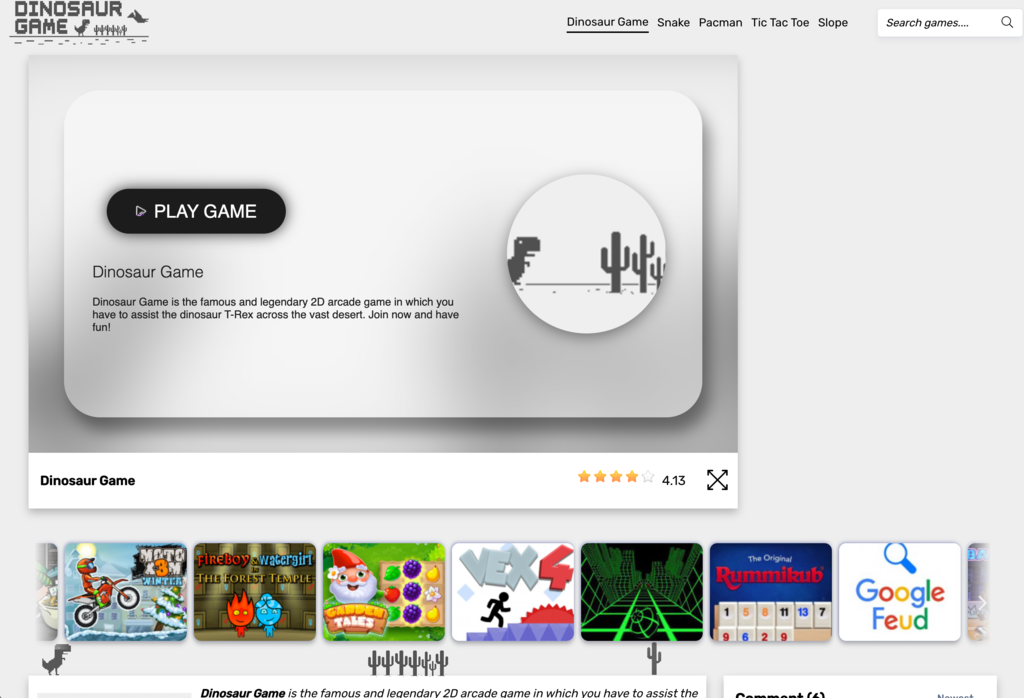 Andrew:
Nice logo animation and I also like that it has a comment section. I noticed that there's input lag when jumping. This is probably because the site is loading the game in an iframe, plus executing some javascript on jump. They should move all of this out of the main thread to get rid of the lag. I'll give it a 4/10, mostly because of the lag.
Eugene:
There's also a pretty obvious typo in the comments widget. Not looking very professional unfortunately. I do appreciate that it's not full of ads though.
Andrew:
This game seems to mostly be popular in Russia. It has user accounts and 1118 registered users at the time of writing this (their users page is public under /users). Pretty low considering their traffic. Users seem to accumulate points when playing, but these are not the same as the game points, so my guess is that they couldn't tap into the game engine to extract real scores, which is a pity. Still, I'll give it a 6/10 for the effort. Wouldn't use it as it's mostly targeted at Russian players.
Eugene:
Good domain, weird login options (first time I see "Log in with Odnoklassniki"). Wouldn't feel safe giving them my email, so it's a pass for me. 3/10.
https://24glo.com/game/dino-play.html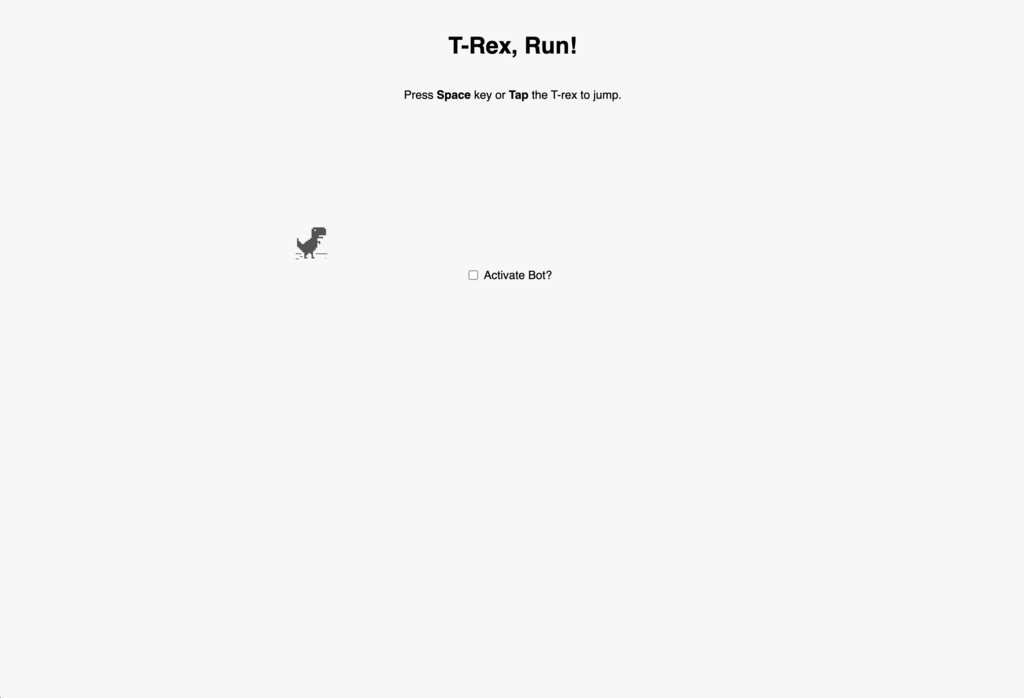 Andrew:
This appears to be some kind of translation agency website, but they also host a bunch of games. Weird. Basically nothing special about this version. 2/10.
Eugene:
First thing I noticed was the ".html" at the end of the URL. 2003 called, it wants its URLs back. All jokes aside, I agree with you that there's not much to review here. 2/10 for me as well.
https://www.trex-game.skipser.com/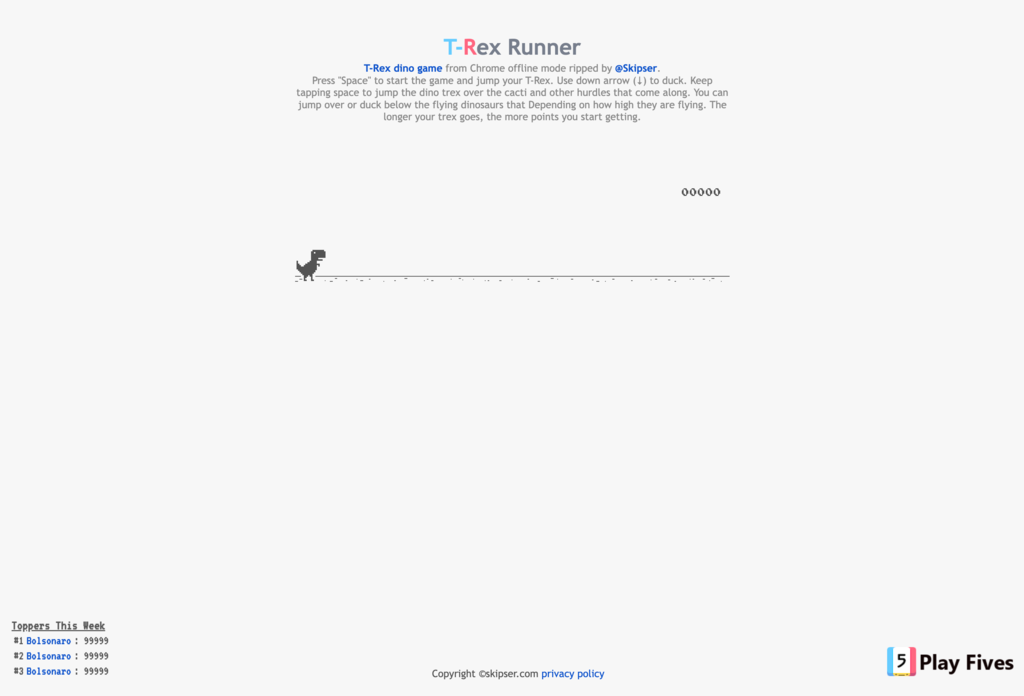 Andrew:
I kind of had an inkling we would find the dino game on a bunch of random sites, so here we are, this time on a tech site that's mostly popular in Brasil. Again nothing special about this implementation, I'll give it a 5/10.
Eugene:
As a designer, I can't help but notice how the style of this page has nothing to do with the overall style of the website, plus what Andrew said. Also, they changed the default sounds to ones that I personally don't like at all. 4/10.
https://gameforge.com/en-US/littlegames/t-rex-dino/#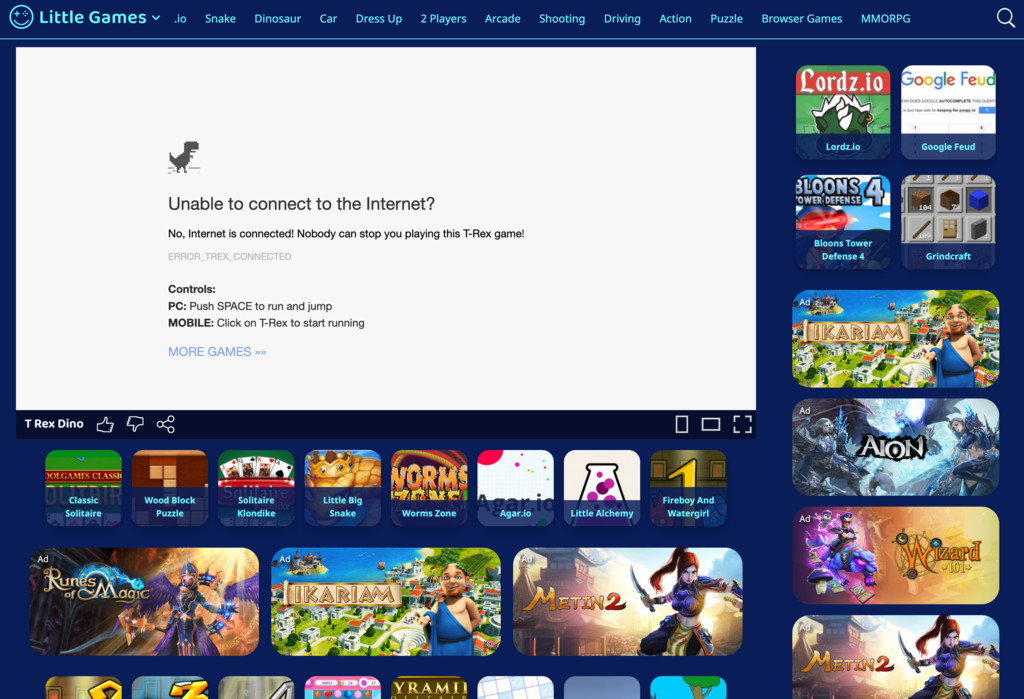 Andrew:
I'm pleasantly surprised to see Gameforge on this list. I didn't know they had this "Little games" section. What I like about their version is that they took the time to copy the Chrome looks. When I first saw it I thought that the iframe is down, that's how realistic it is :) I like it, 8/10.
Eugene:
Similar to Poki in terms of overall page design/layout. Again, not a huge fan of this style, and even though it's probably a good match for a game gallery, it's not really great for the dinosaur game specifically. Regardless, I like Gameforge too so I'll give it a 7/10.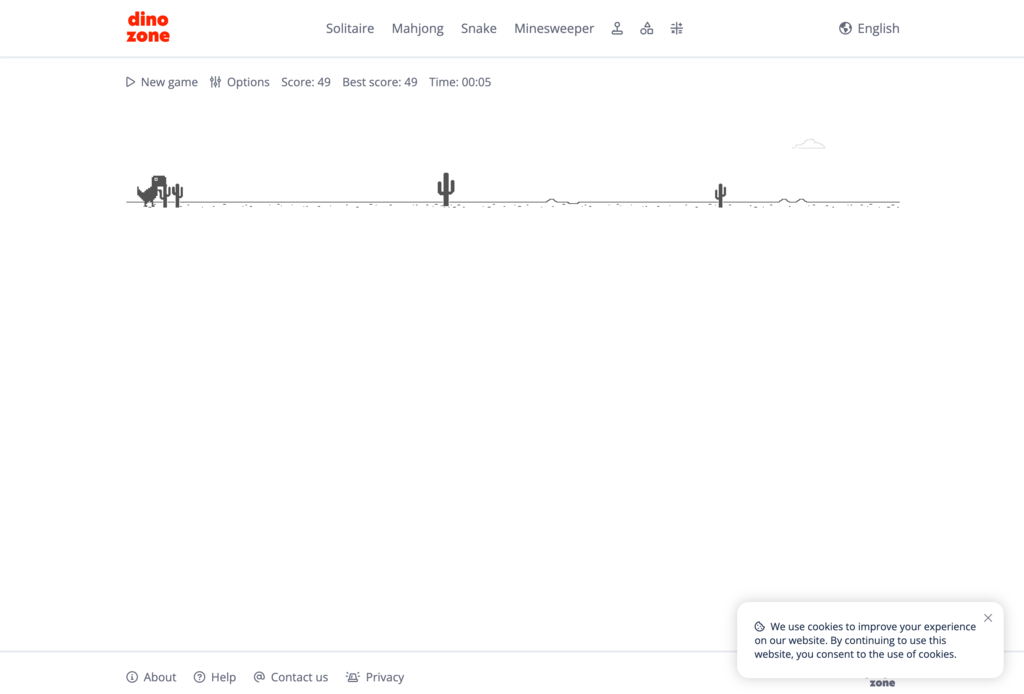 Andrew:
I gotta say, some of these websites look operated by the same people (not talking about any one in particular, but that's just the general feeling I'm getting). This one has a bunch of options under its "Options" menu, which is pretty useful. They also took the time to make the game full width, although I wish they would center is vertically as there's too much white space below. 6/10 for me as it's a bit better than average.
Eugene:
7/10, not much to add here, except that I like the short and memorable domain.
https://shawneestatechronicle.com/games/dinosaur-game/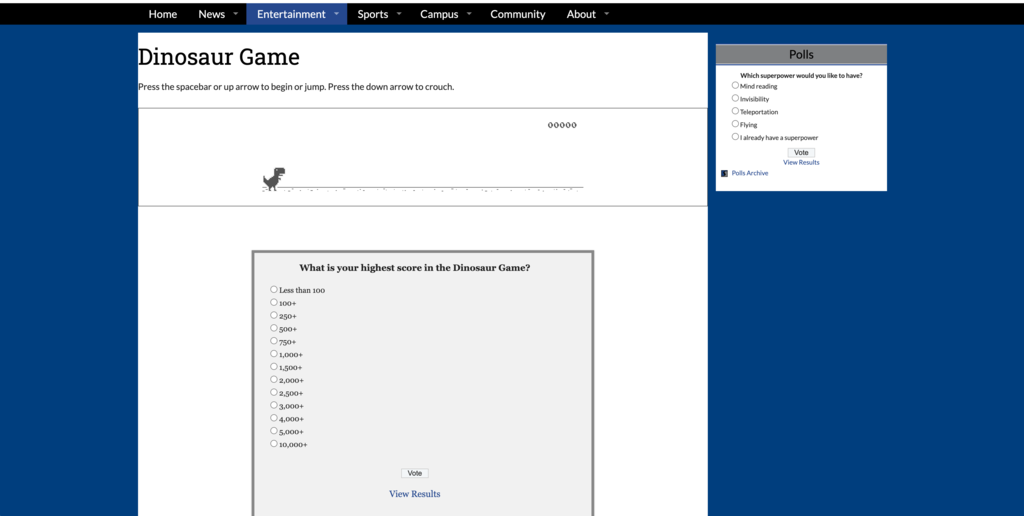 Andrew:
The Student News Site of Shawnee State University has a games section with a bunch of word games (none of which work, so if you're reading this admins, take a look) and the dino game. College students really like to play this game, so I understand the motivations. I suppose it's pretty convenient, if you are a student at Shawnee State University, mainly because the university website is probably whitelisted on the intranet. Otherwise just go with a better option. 2/10.
Eugene:
I like how they used a poll to get around the fact that they couldn't get the real high scores from users. However, unsurprisingly, everyone is saying that they got over 10,000, which I heavily doubt. Also noticed something else: when starting the game on desktop, the space bar causes the page to scroll down. 3/10 for me.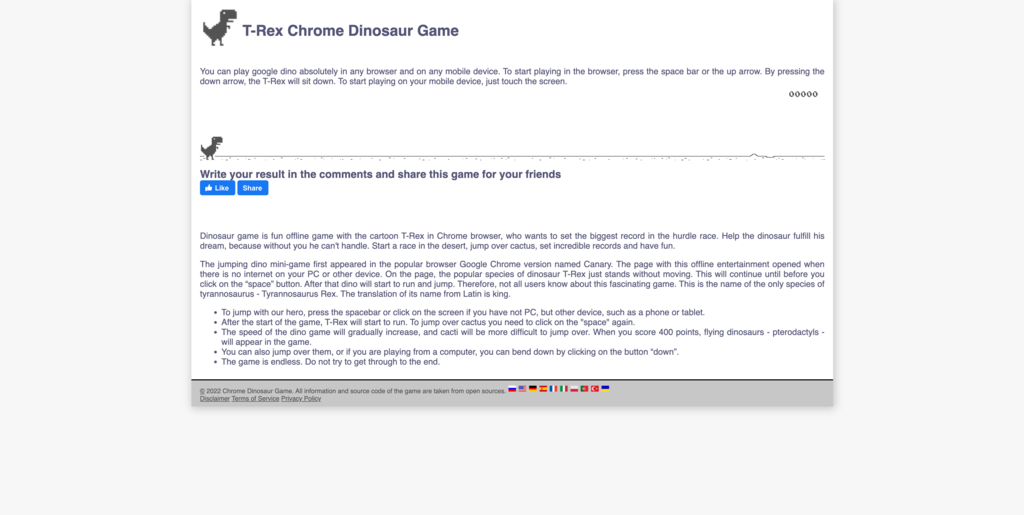 Andrew:
Standard implementation, but I quickly found a couple of issues. First, they tried to increase the width of the game (which is generally good), but they weren't able to do it properly so now the track has gaps in it, which looks strange. Then they mention a comments section which is not there. Maybe they changed design and forgot to update the content, that would explain both bugs. 3/10.
Eugene:
I tested this on mobile and it seems like there's no gaps issue there. However it does look like a wall of text, which does not look particularly good. For me it's a 4/10.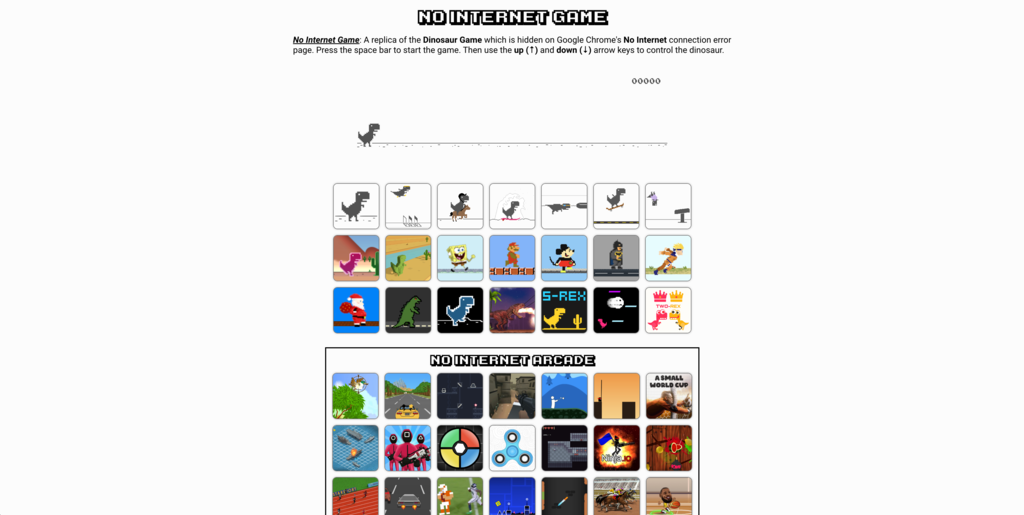 Andrew:
Looks clean and it's pretty responsive to user input, but the dinosaur's head gets cropped when jumping. I like that they have a lot of variants, as well as some other games. The equestrian version is hilarious! Overall I think it's nice, so 8/10.
Eugene:
Appreciate the clean design and many variants - 8/10. Could be a 9 if they worked a bit on the overall website design.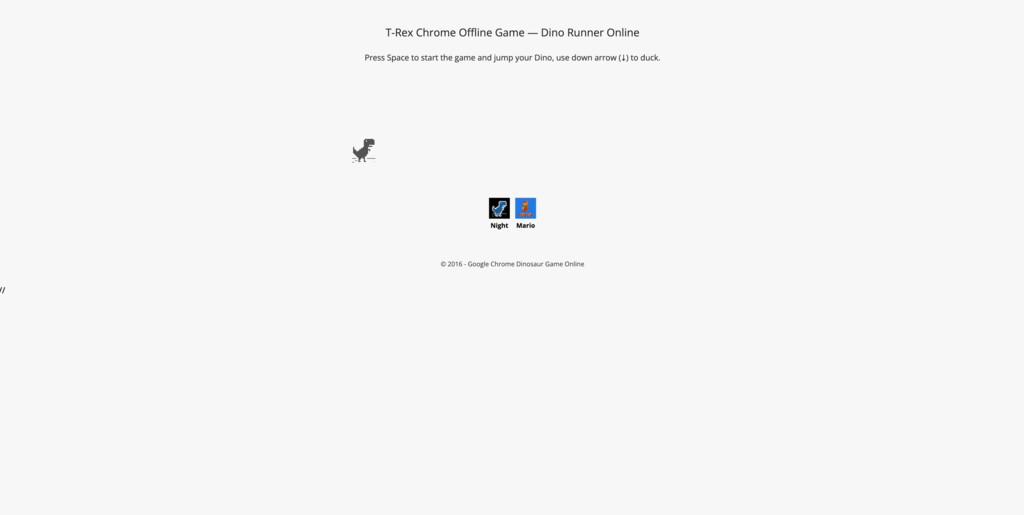 Andrew:
This is hosted on a performance engineer's website. He should probably make the footer dynamic since it shows the year 2016. He included the Mario version, which is nice but doesn't work. 4/10.
Eugene:
The night version works though. Maybe he's hosting the game for himself, in which case props to him. 3/10 because it looks like it hasn't been updated in half a decade.
https://www.crazygames.com/game/chrome-dino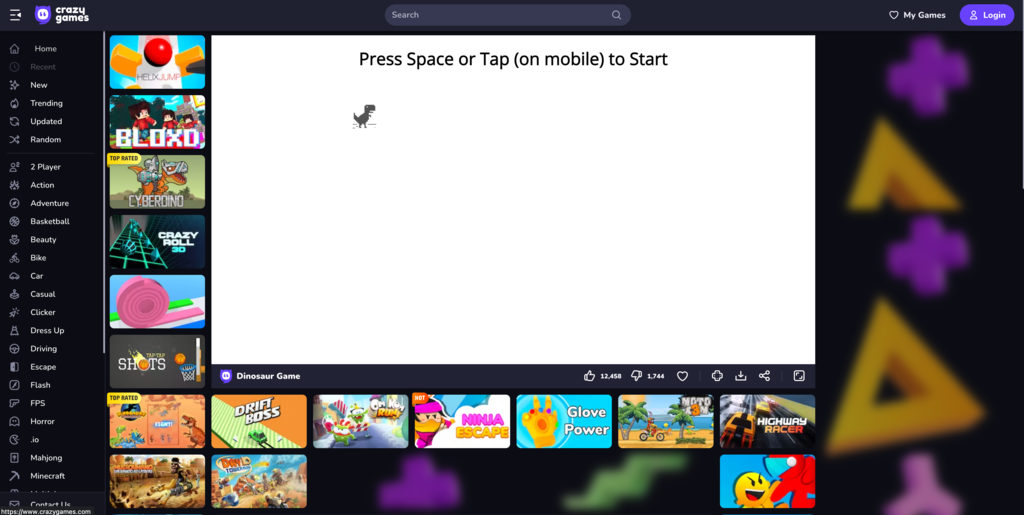 Andrew:
I've gotta say, I love the overall design of the website. The dinosaur game itself is nothing special and there's some input lag too. I'll give it a 9/10 because I like how clean the mobile version is.
Eugene:
9/10 for me as well. I love that you can save games to your account. And they have hundreds of games, very nicely done overall.
That wraps it up! Do you agree with our reviews? Hop on our Discord to let us know.