February 2022 Update

February was the first month of the Dinosaur Game website. We launched on ProductHunt and became the #1 product of the day.
In total, we registered 19,723 page views over the month of February. Most of the traffic came from ProductHunt and Hacker News.
We also submitted the website to Google and Bing, which have already indexed it.
We expect next month's traffic to be lower and then start growing steadily from April onwards.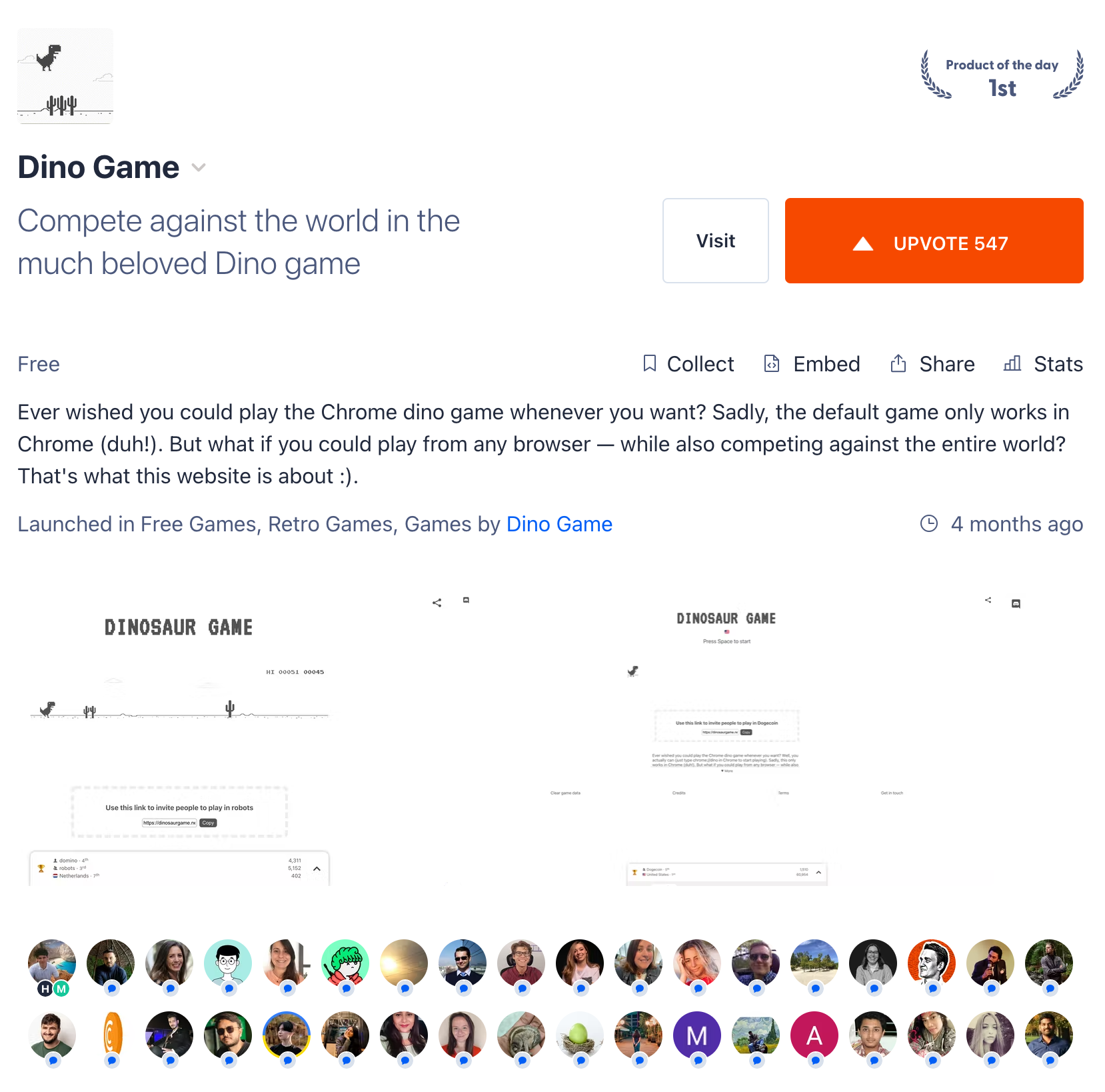 An interesting development: our systems caught our first cheater. We promptly reset the scores and banned the Russian user who was responsible for this.
Product-wise, we pushed several updates. Let's review them one by one.
Security updates
Security is one of our top priorities and when it comes to our game, this means preventing users from artificially inflating their scores.
We added 3 different systems for detecting cheaters, because unfortunately relying on people's common sense of not ruining the experience for everyone else is not enough.
Improved leaderboards
The most important change to leaderboards is the ability to view your user, team and country score at a glance from the leaderboard header, without having to open the full leaderboard pane.
We also added a smooth opening animation to the leaderboards and decreased the height of the individual rows to make it easier to browse the long lists.
Clear game data
We use localstorage to store your username, team and country selections, so that you don't have to select them every time you visit our website.
If for any reason you want to delete that data, you can now do so via the "Clear game data" link at the bottom of the page.
Landscape mode
We added a beautiful landscape mode for our mobile players, as well as a subtle suggestion to nudge players to try this game mode.
Because the game happens on the horizontal plane, landscape mode allows mobile players to have a larger field of view and therefore have more time to react to incoming obstacles.
Based on our preliminary tests, mobile players using landscape mode have up to 50% higher scores than ones playing in portrait mode.
For this reason, we added a subtle suggestion in portrait mode that invites players to try landscape mode.
Another benefit of landscape mode is the cleaner interface. We eliminated most distractions to allow players to focus 100% on the game.
We encourage you to try it out and let us know on Discord if you like it as much as we do.