August 2022 Update
August was another very good month for our website. Our users grew by over 50% and our page views grew by more than 70%. Last month we predicted we would reach 100k monthly page views within two months. As you can see in the screenshot below, we were just shy of reaching that goal within a month.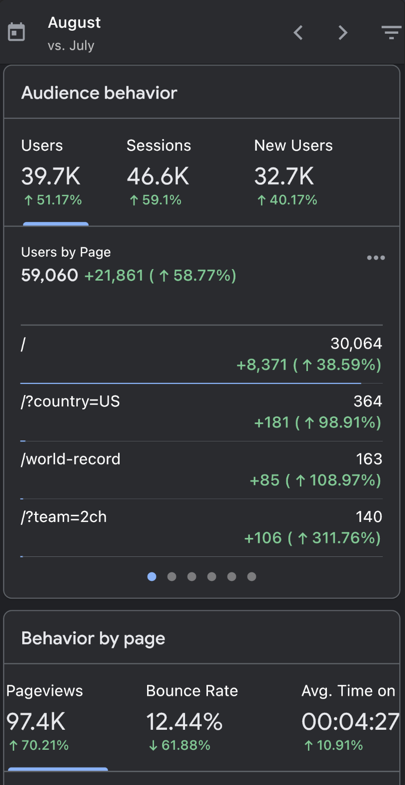 We will definitely reach the 100k goal this month and we anticipate 200k page views in October.
Our Discord server also doubled in size and now has more than 200 members, thanks in part to joining Disboard, a website that features public Discord servers.
As we already mentioned, one of our goals is to increase social media traffic. To do that, we wanted to focus on two use cases: sharing your high score and inviting people to your challenge.
We already had a small call to action that prompted challenge creators to share their link, but we thought there was room for improvement. We therefore redesigned the whole area, which now looks like this: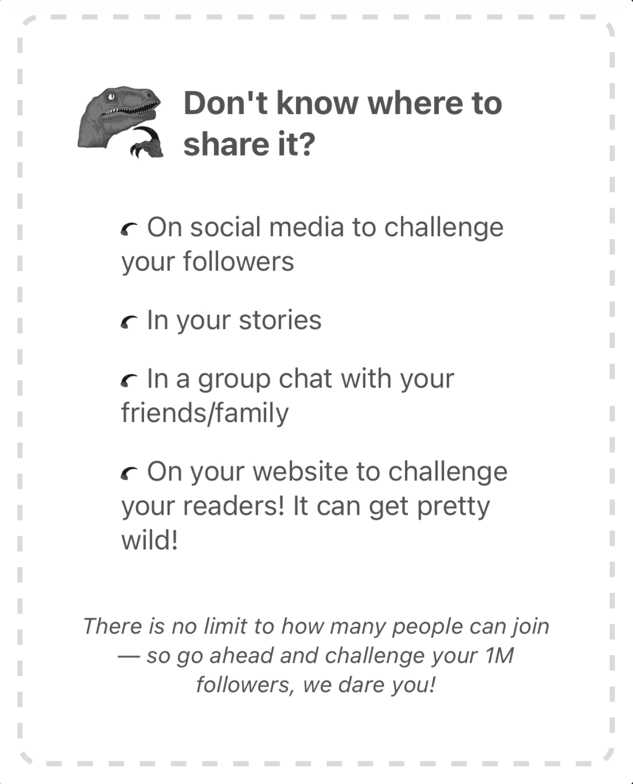 That's right, we're using dinosaur claws as bullet points 😏. Unfortunately, this change did not result in more social media traffic. However, something did change: sessions starting on a challenge page went from 4.39% to 5.77%. In absulute terms, they went from 1.3k in July to 2.7k in August.
Those sessions represent users who landed directly on a challenge, so it looks like our change did something to encourage people to invite their friends, although privately and not publicly.
We also have plans for encouraging users to share their high score. We will release those features by the end of the year.
Until then, keep jumping!